Our Bed-and-Breakfast in winter. The Chalet is situated in the mountains of the south French Alpes in a protected, renowned and quiet environment with an exceptionnally sunny climat all year round (300 days a year of sunshine!)
A stay at "La Coustille": A step towards you ...
Discover our guest rooms at the exceptional site of a small village and ski-resort of the Hautes Alpes, in the beautiful mountain range, next to the « Park des Ecrins » National Park . St Leger Les Mélèzes (1200m / 2001m) is the gateway to the Ecrins National Park and 20 km from Gap.
A bit like at home, all of our rooms are different, in a mix of modern and antique fourniture, for a warm atmosphere, unique and personalised. All inspires light and the decoration invites you to evade yourself and dream away. Rejuvenate and enjoy the magical sunset from our diningtable or the deck of our swimmingpool with panoramic views over the valley...
Throughout all saisons, we will provide personalized documentation, charts and information to help you choose among many activities. You will surely find the activity that fits your needs.


« La Coustille », is the local translation of a small street that mounts ... La Coustille B&B, where you can live your vacation dreams.

--------------------------------------------------------------------------------

To celebrate the Spring time, we propose 2 special offers :

One night in a double room incl. breakfast,
One dinner at our Guest table for 2 persons,

A private SPA cession (30 minutes),
Special price for this Pack "ECHAPPEE NATURE" : 195 Euros
One night in a double room incl. breakfast,
One dinner at our Guest table for 2 persons,

A private SPA cession (30 minutes),
Two massages with Bio-oil (2X50 minutes).
Special price for this Pack "BIEN-ÊTRE" : 285 Euros
(Your advantage ; 10%. Valuable for Two persons, from April 1st till June 30th 2018, (outside school vacations and hollydays, reservation mandatory, dependant on availability of therapists).
Make your choise through the normal reservation prodedure and please mention the Pack of your choice in the "remarks" field ; we will adapt the price for you before sending the confirmation.
Dont hesitate to call us if you have any questions on : 0033-492507674

-------------------------------------------------------------------------------

Why come to us? Our advantages:

* From exciting activities to relaxing sorties, you find it all near our Chalet ; Any season has it's specific charmes
* We are situated in the Ski Resort St Léger les Mélèzes, at only 500 m. from the ski lifts.
* You will find complete documentation and personalized advise for your cultural, sportive or relaxed outings.
* We have a well equipped SPA relaxation area that we reserve just for you in the winter, in summer you can profit from our outside pool with scenic view on the mountains.
* We prefer buying directly from local producers and use their bio products, or those grown in our own garden, for the preparation of a delicious family dinner to enjoy at our Guest Table with the other guests.
* We offer free wireless WIFI connection in all of our rooms.

Awaiting your visit, Rendez-Vous on our page "Travel Tips" chapter "From Spring till Autumn in and around the Champsaur Valley" for some exciting videos !!!

Please go to our page "Availability and Rates" for reservation.

We have two adorable cats ; therefore we cannot accept any domestic animals.

--------------------------------------------------------------------------------
The guest rooms of La Coustille: quiet and cozy.

Rooms and Guest house of La Coustille in the Hautes-Alpes
Choose the "cocooning attitude",
"Aqui sian ben" : Here I feel good (in local dialect).
If you like quiet, rest, and nature, while being at the center of the ski resorts, hiking trails and sporting activities and places to visit, so choose one of our 5 rooms and your vacation will be successful.
View our 5 bedrooms on the right side of the screen. Click on each room to visit the pictures, see our availability and book directly online.
You can also see all at once on a single page, the availability of all our guest rooms by clicking on this link.

Delicious dishes from local and home-grown products
In our Guesthouse La Coustille is following the seasons, colorful fruits and vegetables bursting with sunshine and scent of the Hautes Alpes mountains are everywhere. The dishes Annie offers you at our Host Table are impregnated with the memory of her childhood; the aromas of her father's kitchen, but also her travels and favorite dishes from elsewhere. "Aunt Mary" her first cookbook is still a reference after15 years ...
Annie offers you a lively and exciting journey of authentic French cuisine sometimes embellished with exotic influences, dotted with discoveries she enjoys sharing. This is an opportunity to rediscover the famous "forgotten" vegetables and obsolete recipes and she reconciles today's children with dishes betrayed and ruined by their canteen at school. Annie restores "rustic" vegetables to their former glory!
At the Host's Table « La Coustille » we invest a lot in the « produced » and "cultivated" house jams, teas, syrups, fruits and vegetables, to uphold the authenticity of the taste and quality of our production we grow without the use of chemical pesticides. This philosophy is completely in line with our environment, our habitat, our home and ourselves.
Breakfast and dinner, depending on season and time, are served in our dining room or under the arbor of the terrace.
Meals at the guest table of the Coustille are composed of an entrée, a main-dish and its vegetables, salad, dessert or cheese and 1/4 of wine, cofee or tea.
Prices for our meals: 29€ per adult and 17,50€ per child (2-11 years old)
.
Babies free of charge (0-2 yeares old). No meals are served on Wednesdays and Sundays (june 1st september 30th) and Tuesdays and Sundays (october 1st - mai 31st)
. We will advise you on one of the excellent restaurants in our valley on those nights.
We serve our evening meals when a minimum of 4 guests have reserved dinner the day before at the latest.
Here's an example of a delicious local dish, prepared by Annie at our B&B for our guests, as presented on French television :
Bon Apetit!
In preparation for your escape to our beautiful valley, we present you a video here:
Our Guest House was proudly attributed the National Park « Les Ecrins » label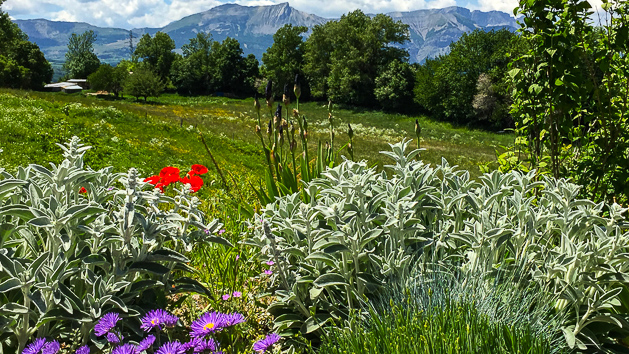 We are serious about preserving the planet, work as much as possible with local producers and serve our home grown organic vegetables and fruits at our table.

This video presents the different actors and their contribution to you. Come and see us to experience the delights of our environnement in person!
We will guide you to discover natural outings accompanied or not in the surrounding area, our cocooning accommodations, local produces like:honey, cheeses and treasures of the hive being themselves the first products to benefit from the new brand. Earnings for the visitors? Respect and commitment to a local and organic way of working. Nature and culture, visitors will be delighted to reconcile the two, between discoveries of heritage and quality of local products. The 'National Park spirit' is the first step towards a successful stay!

The guest house « La Coustille » and its pool, perfectly integrated in the beautiful landscape of the Hautes-Alpes.
Our Spa and Wellness area: Welcome to a haven of peace
The jacuzzi and sauna
At the heart of the « Massif du Champsaur », you cut away from the world and take care of yourself by enjoying long walks in the fresh air, healthy, local produce and you resource in the sauna and jacuzzi before a massage or a session Shiatsu provided in a warm atmosphere ... Everything is here to « log out from work »and give you a sense of harmony with nature. Discover a world apart where the wellness experience is total.

Relaxing atmosphere of the spa guest house in « La Coustille » in the Hautes Alpes.
Massage and Shiatsu sessions
We offer massage sessions or Shiatsu (upon reservation) performed by qualified professionals providing comprehensive care tailored to each person. For more information and prices : please go to our page "Travel Tips" than "Our Relaxing Area And SPA".
At our Guest table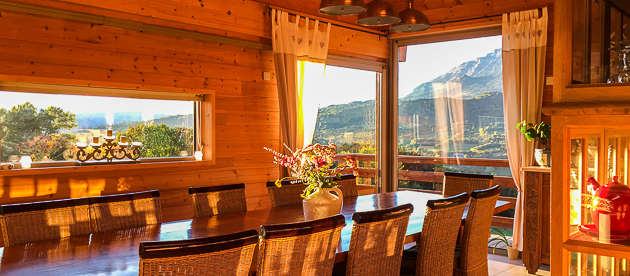 The Guest Table (Table d 'Hôtes) at La Coustille
Our dining room offers a breathtaking panoramic view of the beautiful mountain range and its surrounding mountains of the valley at 180 ° but not only that, it also delights your « taste buds ».
Exclusively reserved for our guests, our table will allow you to extend the moments of sharing and conviviality. This is an opportunity to share a family meal and taste delicious local and organic products.
We offer affordable meal plans.
For more information, please to refer to the "Travel Tips » tab on the top of this page.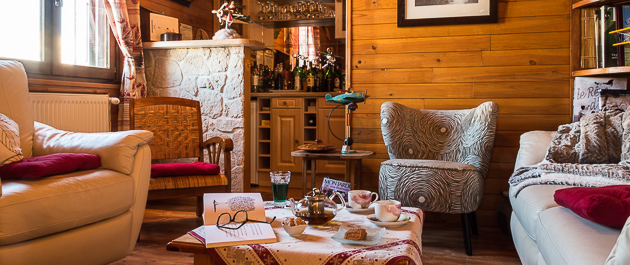 Why choose our B&B La Coustille ? Some advantages.
La Coustille in the Hautes Alpes in St Leger Les Mélèzes is the most beautiful in the region in an idyllic setting.

Book directly on our site and stay in a beautiful and comfortable room. We offer several rooms, all cozy and comfortable. You will definitely find one that suits your needs and your budget.

All rooms are strictly NON SMOKING. Smokers are welcome provided they indulge in their favorite pastime outside, respecting nature (we provide them with ashtrays).

All rooms meet the prestigious label "3 Ears" by Gîtes de France and come with a private bathroom with shower and wc. Most rooms have a private terrace and direct access to the outside.

Thanks to our professional reservation system online, you see immediately what rooms are available. In a few clicks you will know the price of your stay. The lowest prices are obtained for stays of 6 days or more. Season Deals possible. During the holyday season we hire for a stay of one week (7 nights). Shorter stays are possible, however if available or last minute, at any time, if the requested dates are immediately before or after an existing booking (see schedule online). You can book in advance, especially for the high season stays and periods of manifestations (Tour de France, Monte Carlo Rallye ...).

We accept most credit cards, or cash.

We offer free WIFI internet access in each room.
Our environment
Near town , Mountain , Rural area , Village , Beautiful and original building , Remarkable environment , Vehicle necessary
Our facilities and services
Wifi , Swimming pool , Sauna , Beach towels , Dinner with hosts , Bar , Boutique , Book library , Children playground , TV lounge , Small grocery store nearby , Car park , Jacuzzi
Topics and style of your holiday
Romantic , Hiking holidays , Relax , Family atmosphere , Nature first , Traditions and Culture , Gourmet , Spa , Sports , Golf , Ski , Family holidays , Luxury , Elegant
At Saint-Léger-les-Mélèzes in Champsaur, I enjoy my holidays in Hautes-Alpes at any season ...
St Léger les Mélèzes, the station with 3 labels: Green resort and snow village, tourist town, starry village and flower village.
St Leger les Mélèzes: the "Mélèze" (Larch) is the emblematic tree of the mountain range
As a mountain tree, it grows between 1200 and 2400 m altitude.
The Larch is the only conifer to lose its needles in the fall! As with hardwood its needles blush yellow and red and turn brown before falling. It is the only conifer in Europe to do so! Its name comes from a native of the Dauphine word « Mel »; meaning: Honey.


About history and local heritage ...
Like most villages in the valley, the foundation of St Léger might lie around the year 1000. In the year 980, St Mayeul, Abbot of Cluny, (very important character of the church at the time) is stopped close to our village by the Saracens. It is during this period that the construction of castles begins. The village is still called « Le Serre » ( which means « small hill » in french) on top of which a fortified house was built. The castle of Saint-Léger is created by the monks of Cluny around the year 1200. It's known to have housed members of the resistance during the last war. Listed as a historical monument in 1996, the castle and its surroundings are now protected to guarantee the respect for the integrity of the testimony of local history. In 1335 Saint-Léger counts only 77 families. The church was built in place of an old chapel and an old bell tower in 1870. From 1853 to 1899, about 2000 enumerated people left our beautiful "Champsaur"valley, etymologically "Champs d'Or" (Golden Fields), to go to North America (California, Louisianna), South America, Canada (Ottawa and Montreal), Australia (Sydney and Melbourne). Each year their offspring still come back to visit the area their ancesters lived in.
The ski resort was created in 1966.
Things to see and do in Spring
Come and witness the revival of the larch tree with its neon green spines and its bright red flowers; the awakening of nature; the mushrooms…
Things to see and do in Summer
In summer it's as if you were in the Provence; the lavender scent around our pool and lively discussions in the petanque area! ... The Champsaur valley and the Ecrins National Parc will show you the return to pure Nature along its hiking trails on foot, on horseback, on a mountain bike or while paragliding! Lakes and rivers will cool you off!
You do not like to move? That's what the holidays are also good for, right?! Comfortable deckchairs await you at the pool. In the evening on the terrace by the barbecue, or in our dining room with panoramic view, come share our delightful dishes, combining mountain traditions and flavors of the south or elsewhere, for your delight.
Summer Activities
Discovery Walks - Hiking with mountain-guide - Hiking - Horseback riding - Mountain Trail - Trekking - canyoning - Climbing - Paragliding - Mountain biking - downhill mountain biking - Horseback riding - Rafting - Quad - Moto Trial - Golf 18 holes - Fitness trail - Fishing in the river - Tennis - Tyroliene - Acrobranche - Forest and leisure centers - Airplane tours - ULM - Parachute jumping- Ballooning - Glider flying…
Autumn: the season when the mountain putts on its golden coat and rubies.
Our home, chalet style, when the cold season is looming and we are thinking of you, how about a little comfort and softness? Our universe with plush pillows, soft plaids is cocooning. You will encounter truly passionate mushroom seekers, Evenings telling tales .... And the price of the stay will be Softer too…
Spring or Fall Activities
Mushroom picking (morel mushrooms, chanterelles, rosé ...) - Approach the local wildlife (marmots, ibex, chamois ...) - Museum "Refuge of animals" - Discover the Flora in the Ecrins National Park - Discover waterfalls and lakes in the Mountains - Horseback riding - Hiking - Mountain Biking - Quad - Paragliding - 18-holes Golf nearby…
Things to see and do in Winter
In winter, with snow, you engage in the pleasures of skiing: downhill or cross country skiing, dog sledding, ice skating, ... or you hike on snowshoes in beautiful landscapes !! When you return, you will enjoy the wellness of our Spa area and relax in the Jacuzzi and Sauna before a massage or Shiatsu!
Skiing and winter sports going downhill « tout schuss »!
The resort of St Léger les Mélèzes has been equipped with new snow cannons and an artificial lake to feed them.
All practical information on our ski resort:
Altitude of the resort 1260 mSki area: 1260 m to 2001 m.
Ski area consists of 16 slopes: 8 green, 2 blue, 5 red, 1 black.
Activities: Alpine skiing, X-country Skiing, Snowshoeing, Sledding, Snow park, Dog sledding, Jöring skiing.
Distance ro Resort center: 500 meters.

Skiing school Distance: 500 meters.
Skiset-hire shop Distance: 500 meters.
Ideally located at the edge of the village, close to all amenities, bars and restaurants, the B & B « La Coustille » will be the perfect « «pied-a-terre » for holidays in winter time with family or friends.
Here, skiers will enjoy being next to the ski lifts and to have access to the slopes nearby.
Winter Activities
Alpine Skiing - Snowboarding - Snowblade  - Snowshoe trekking - Track Luge - Cross Country Skiing - Handiski - Huskies - Horse-drawn carriage - Ski lessons ESF - Snow garden for children - Ski Joëring - Snowmobiling - Skating rink - Paragliding - Tyrolean
How beautiful the mountains are!... In any season enjoy the sauna and do not forget your bathing suit, in winter you can relax in the jacuzzi, in the summer in the outside heated pool.
Between us and you, everything happens naturally, we will be complicit in your well being.
Annie and Marcus Verhoeven Who are we?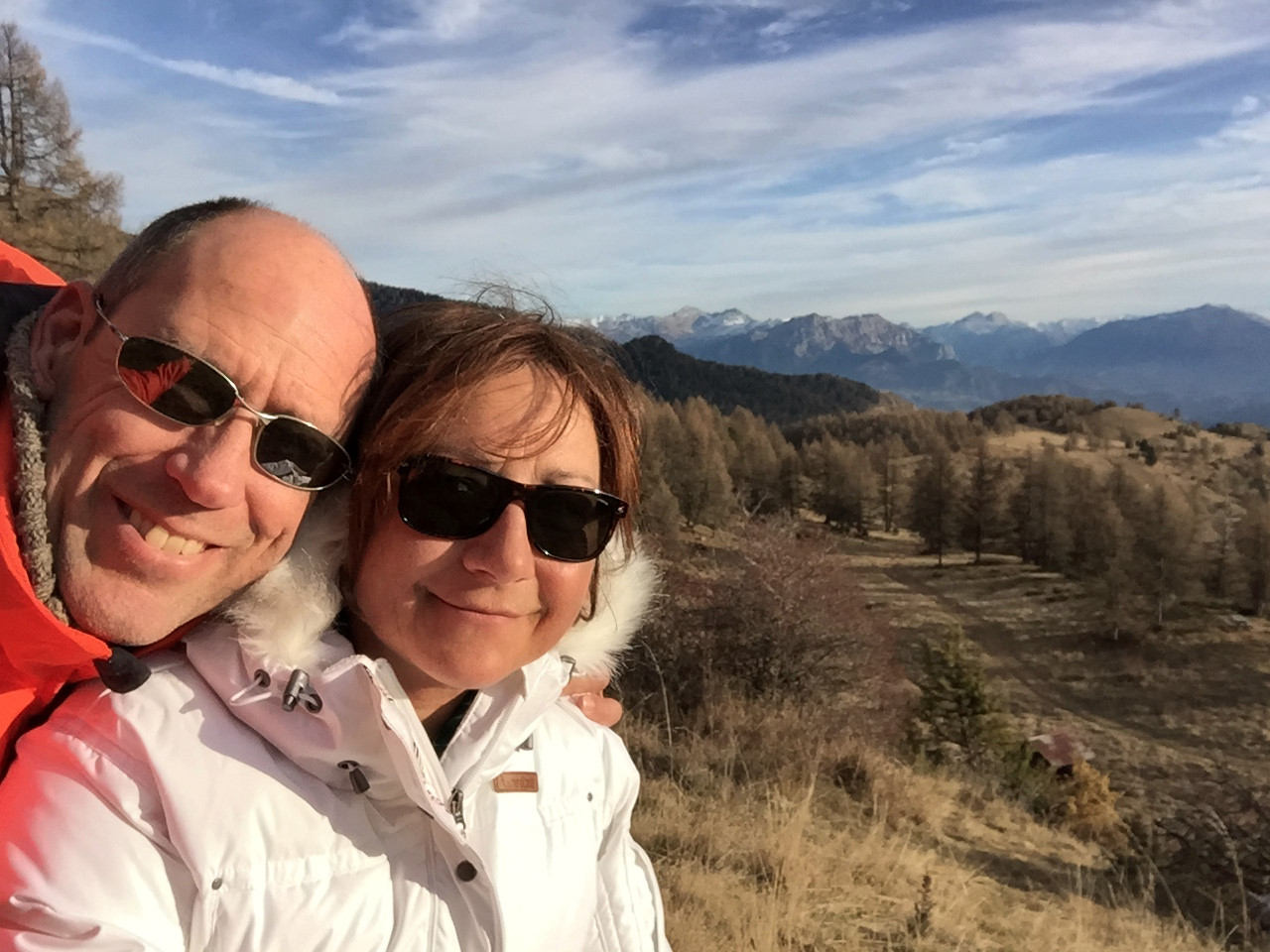 From Franco-Dutch origin, we received our first customers in 2003, in our guest rooms "Villa des Clematites" at the edge of the Champagne region east of Paris.
In early 2015, we fell in love with the B & B "La Coustille" in the beautiful Champsaur mountain range, in the Hautes Alpes.
Our philosophy: Receive our guests like friends and make you feel at home with us; make you discover the surroundings with its multiple aspects. We like to "walk the extra mile" so our guests are comfortable with us...
We are happy to welcome you home and share with you our passion for the Alps, nature, cooking, outdoor activities ... To make your stay pleasant, we offer you all the information on cultural or sports activities; the beautiful « Champsaur »Valley, The  »Parc Des Ecrins" National Parc and its surroundings.
 
We have two adorable cats, that's why we cannot accept any other cats or dogs in any of our rooms.

If you are allergic to cats, please take your precautions!